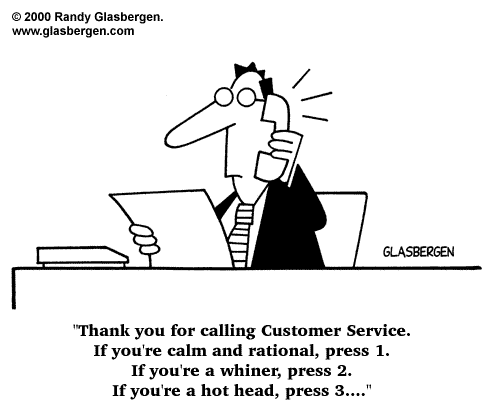 Everytime the office loses its internet connection, I dread myself to dial
100
. It's annoying, because not only I have to go through the
answering machine
and listen to
broken-English announcements
, but I also have to endure the
almost-everytime

-SLOW customer service
.
Everytime I pick the phone to call 100, I would take a deep breathe and let out a
LONG SIGH
before punching the numbers. And I would wait
almost
patiently for the other end.
It was the same thing yesterday. Lost the connection, took a deep breathe, gave a long sigh, and punched the numbers. And I waited.
Almost
patiently...
Me : Hi, I'm calling to report an internet disconnection here in my office.
CSO: Can I have the user ID, Miss ***?
Me : It's D,A,...
CSO: I'll repeat ya. T,A,...
Me : No, it's D for Denmark.
CSO: Ouhh, ok. D for Denmark, A for America, * for ****, * for *****, I for England, and * for ****.
Me (

WHAT THE F***??!!!

) : Errrr, yeahh... whatever...
CSO: Alright, Miss ***, so you are ....bla bla bla...
Enough said, are they pathetic or what?? I thought they should have a standard code for all that?? I guess I'm wrong.
Well
, what the heck! They
NEVER
provide good service
ANYWAY
!
* It may seem like a personal attack on that particular CSO, but I blame her Team Leader!
Bongok. Apsal ko tak monitor keje diorang ha? Mane pi khidmat profesional?? Ke tak penah tau???
* This reminds me, ever heard 'em reading from the manual? It's
DAMN ANNOYING
I tell ya!
* Take this weight off my shoulder, please...