Ohh, the title makes me hungry~
Last night, after buying noodles from a nearby stall, I HAD to go down again to order something else. The noodle was PLAIN with 3 slices of kailan. So, I asked for an English menu, and thank goodness, they have the English menu, so I just pointed on Kung Pao Chicken.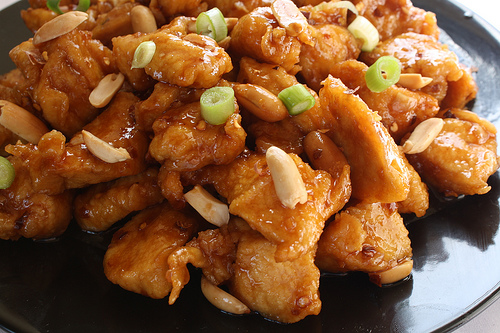 Ok, so I stole the above picture from a chef's blog, huhu, but the kung pao chicken I had last night was DE-LI-CIOUS!!! Waaaaa~ I'm drooling over it now. Wuwu~
Anyway, I checked out of Dongdan hotel today, took the subway (I love the subway), almost got into an illegal cab, got into a legal cab, and instructed the driver to send me to Jiuhua Spa & Resort.
And I am now blogging from the 15th district hotel after attending a reception this evening at the 16th district.
O wai, I didn't snap any picture today due to the terrible air condition. I've been coughing and having some sort of irritation in my throat. The air quality is WORST than Malaysia. Imagine going through a thick haze EVERYDAY. It depresses, you know...
* Mum, I want tomyam.
* Kamu, I want ikan bakar. Ohh, and I want YOU too! Uhuk2~